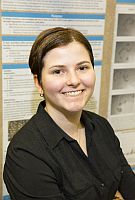 Hayley Todesco
"Waste to Water: Biodegrading Naphthenic Acids with Novel Sand Filter Bioreactors"  
Queen Elizabeth Junior Senior High School, Calgary AB
This project involved designing, constructing, and testing the effectiveness of sand filters newly applied as bioreactors to the biodegradation of toxic naphthenic acids. Reductions in acid concentrations and development of large biofilms over three weeks revealed that these new bioreactors were fourteen times more efficient than batch bioreactor controls. Application of these inexpensive and sustainable bioreactors could significantly accelerate the detoxification of oil sands tailings.
Hayley is the 2014 Stockholm Junior Water Prize winner and went on to win the Google Science Fair for her age group in September 2014.
Click here to view Hayley's paper.